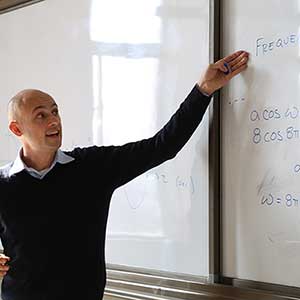 The modern language program at Saint Paul American School is dedicated to both helping students master a foreign language, as well as introduce them to the subtleties of a culture different from their own. Students are enrolled in two language classes a day, which focus on both oral and written Components. As students progress through the program, courses increasingly focus on HSK (HanYu ShuiPing KaoShi) mastery, including levels HSK 3-6, with the expectation that all graduates will reach the point of both spoken and written fluency in Chinese.
In an increasingly globalized world, language acquisition is a necessary step in promoting cultural awareness. Our unique concept of high school establishes a mutual credit exchange and dual diploma system between Saint Paul Preparatory School in the US, and the Second School Attached to Beijing Normal University. Many graduates continue to study both Chinese and English, recognizing the importance of multilingualism. Spanish is also an emerging curriculum addition that allows students to add or third or fourth language to their skill set.
Mastery of Chinese and English language ultimately prepares students to be global leaders in a wide variety of fields; with this goal in mind, the modern language program works diligently to prepare students for professional success in the global community.
Courses offered
Saint Paul American School has implemented an Experiential Learning Curriculum into the Chinese Language & Culture course. This program has been developed specifically for our students; allowing them to gain valuable real world experience using the Chinese Language as well as learning Chinese history and culture through hands on encounters. All students that participate in this program follow our LEAP format: Learn material, Experience Chinese culture and language in the form of experiential learning, and then Apply and Present this material to their peers.
Chinese I FOR1117 (1 semester long) Course Description: This course will introduce Pinyin, basic Chinese vocabulary, and useful terms and phrases in typical everyday conversations. We will help students experience and adapt to the atmosphere of speaking with native Chinese speakers. Students will grasp Chinese phonetics, tones and rhythms, and about 320 common Chinese words. Students can say simple and more typically well-known Chinese phrases, such as those used in self-introductions, and will also be able to conduct most routine communicative tasks for personal needs in Chinese, such as making an appointment, making an acquaintance, paying a visit, dating, shopping, etc.
Prerequisites: none
Grade Level: 7-12
Chinese II FOR1118 (1 semester long) Course Description: Students will continue to explore the communicative functions of the previous semester from Chinese I. This is particularly evident in the first five units. In Unit 6, a new topic is introduced about environmental protection. This parallel type content gives the students a more in-depth training in the communication skills targeted. The tasks focus on the communication skill required for daily life. As these tasks are extended both in depth and width, the students' vocabulary will be enlarged, and so will the ability to conduct daily communication. This will act as a bridge to their further Chinese study.
Prerequisites: Chinese I or instructor approval
Grade Level: 7-12
Chinese III FOR1101 (1 semester long) Course Description: This course will concentrate on practicing of listening, speaking, reading, and writing to improve students' Chinese fluency. Students will learn to scan for information, expand vocabulary, and strengthen their knowledge of grammatical structures. Students will take part in everyday conversations in Chinese about familiar topics. Students will use more complex sentence structures, grammar patterns, and will express their opinions using basic yet appropriate expressions and language norms in Chinese.
Prerequisites: Chinese II or instructor approval
Grade Level: 7-12
Chinese IV FOR1102 (1 semester long) Course Description: Students in Chinese IV will learn more Chinese vocabulary, useful terms, grammar points and Chinese culture. Students should grasp about 500 new Chinese words. To cope with the general needs of conducting daily communication, the sentence's patterns and grammar concepts presented to students will be in an order that emphasizes functional usage. The language materials are arranged within situational topics.
Prerequisites: Chinese III or instructor approval
Grade Level: 7-12
Chinese V FOR1016 (1 semester long) Course Description: Students in level 5 will practice listening, speaking, reading and writing to improve students' Chinese fluency. Students will learn to scan for information, expand vocabulary, and strengthen grammatical structures and know more about Chinese culture. Students will read and comprehend the text and will actively utilize new words; the grammar aspect analyzes some comparatively complex sentence patterns to train the students to use more complex sentence structures and grammar patterns.
Prerequisites: Chinese IV or instructor approval
Grade Level: 7-12
Chinese VI FOR1017 (1 semester long) Course Description: This course is designed for students who have a vocabulary of at least 1100 words and have completed the primary Chinese courses. The course will prepare the students to demonstrate their level of Chinese proficiency as high as being able to learn in a Chinese speaking college or university. Communicative modes of teaching are provided to help students with their Chinese language skills in interpersonal, interpretive and presentational ways.
Prerequisites: Chinese V or instructor approval
Grade Level: 7-12
HSK III FOR0906 (1 semester long) Course Description: HSK III is a test-preparation course with an aim at mastery of all reading, writing, speaking, and listening skills necessary for success taking the HSK 3 exam. Students will learn new words, as well as grammar elements and phrases, and will also refine their speaking and listening skills. Finally, classes will compliment students' daily Chinese class.
Prerequisites: Concurrent enrollment in Chinese III
Grade Level: 7-12
HSK IV FOR0907 (1 semester long) Course Description: HSK IV is a test-preparation course with an aim at mastery of all reading, writing, speaking, and listening skills necessary for success taking the HSK 4 exam. Students will learn new words, grammar elements and phrases, and will also refine their speaking and listening skills. Finally, classes will compliment students' daily Chinese class.
Prerequisites: HSK III or instructor approval
Grade Level: 7-12
HSK V FOR0908 (1 semester long) Course Description: HSK V is a test-preparation course with an aim at mastery of all reading, writing, speaking, and listening skills necessary for success taking the HSK 5 exam. Students will learn new words, as well as grammar elements and phrases, and will also refine their listening skills. Classes will compliment students' daily Chinese class.
Prerequisites: HSK IV or instructor approval
Grade Level: 7-12
HSK VI FOR0909 (1 semester long) Course Description: HSK VI is a test-preparation course with an aim at mastery of all reading, writing, speaking, and listening skills necessary for success taking the HSK 6 exam. Students will learn new words, grammar elements, and phrases, and will also refine their listening skills.
Prerequisites: HSK V or instructor approval
Grade Level: 7-12
AP Chinese FOR1502/FOR1503 (year-long) Course Description: AP Chinese is a full-year course that covers the equivalent of a secondyear college Chinese course. It is an advanced Mandarin Chinese course aimed at equipping students both linguistically and culturally to communicate successfully in Chinese within and beyond the school setting. This course prepares students to demonstrate their level of Chinese proficiency across the three communicative modes (interpersonal, interpretive, and presentational) and the five goal areas (communication, cultures, connections, comparisons, and communities) as outlined in the Standards for Foreign Language Learning in the 21st Century.
Prerequisites: HSK VI or instructor approval
Grade Level: 9-12